Seven foods and drinks you must try in Beijing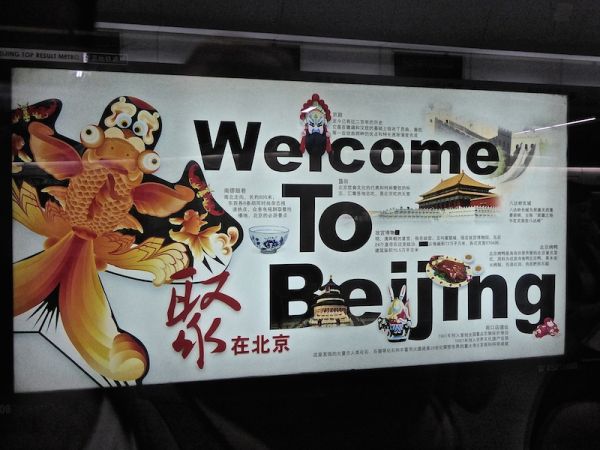 Beijing was our first introduction to Chinese food during our travels and a huge welcome after the more limited Mongolian cuisine.
Beijing food set the bar high for our expectations of food in China! Here's our 7 favourite foods we went China crazy for in Beijing:
#1

PEKING DUCK

Duck is Beijing's signature dish.  It is affectionally referred to using Beijing's former name: 'Peking' duck.

In Chinese restaurants abroad, 'crispy aromatic duck' is a popular dish with chopped up duck served in a pancake with sweet plum sauce and sliced cucumber and spring onion pieces.  This is tasty, but trying it at its home town in Beijing is even more wow:

We quickly learnt that the Chinese eat every part of the duck, including the feet and the head:
#2

BEIJING HOT POT

Hot Pot is a method of cooking and serving food. You have a metal pot in the centre of your table with a simmer pre made broth in front of you, into which you place various pieces of meat and vegetables on sticks to cook.

The Beijing variant of hot pot is simply a pot of boiling water in front of you. You place your sticks of meat or vegetables to cook inside the boiling water pot then once cooked, you place your cooked food into a tasty sauce to cool it down, flavour it and then you eat it:

The most popular type of hot pot is from the Sichuan province of China, well known for its spicy (and very tasty) flavours.

Sometimes Sichuan hot pot is served with two different broths:

And other times it is served with more broths:
#3

MORNING DUMPLINGS

Dumplings can be found anywhere in China.  However, we found that they were particularly popular in the Beijing backstreets where you could buy a dozen for only 10 yuan (£1) at any time of the day (pork with fennel being a popular filling):

This made these two greedy boys extremely happy:
#4

 ANIMAL FEET

Beijing has a few other quirky snacks such as chicken feet which are sold in every good supermarket:

And also pig feet which can be marinaded in a delicious sauce and barbecued:
#5

DOUZHI

Another Beijing snack was a type of desert called "douzhi".  This is made from soy bean but smells and tastes very, er, "strong":
#6

THE OLD BEIJING YOGHURT DRINK

Whilst exploring Beijing's hutongs, we noticed many shops and kiosks selling small cute ceramic bottles with a printed paper top and held together with an elastic band.

They are nonetheless delicious and are welcome after eating a spicy hot pot dish.
#7

BAIJIU

Baijiu is a strong (around 40-60%) and clear alcoholic drink made from either wheat or rice. "Bai" means "white" and "jiu" means "alcohol":

This is the most popular alcoholic drink in China (and after trying it, we now appreciate why it is popular only in China and nowhere else!)

Baijiu is sold everywhere in Beijing and supermarkets had large rows devoted to it. Unfortunately we didn't take to baijiu very well and had a very, er, strong smell.  Perhaps it's better when used for cooking to add flavour.

For more, watch our China travel video as we ate our way from Beijing in the North all the way to the south via Pingyao, Xi'An, Shanghai, Yangshuo through to Shangri-La: