Peru continues to grow as one of the most sought after destinations in South America, largely due to the famous UNESCO Inca World Wonder, Machu Picchu. But there's so much more to discover and explore. Its rich history introduces us to its diversity of people, languages and foods, making it one of the most unique and exotic destinations. Don't miss these 7 cultural experiences you should include during your trip to Peru:
Spend time in the capital city – Lima
There's really no better way to immerse yourself in culture than by spending time in the capital city. Lima is the most populated city in the entire country, making it the perfect location to meet and interact with locals, experience the traditional Peruvian customs, and learn how its history plays a part in the diversity of its people and architecture.
Once considered a dirty and dangerous city, Lima is rising along with the Peruvian economy. Ceviche is now a globally famous dish, putting the city on the map for it's unique gastronomy.
In addition to the delightful dishes, Lima is known for its museums and collection of fine arts, the beautiful, upscale neighbourhood of Miraflores which also boasts "Huaca Pucllana" – a pre-Inca pyramid belonging to the Huari culture. Other top not-to-miss sites include the rock formations of Marcahuasi, sand boarding at Huacachina and taking a boat trip to see penguins at Paracas. Beach lovers and surfers will want to check out Lima's incredible beaches towards the south of the city. To find out more, check our gay guide to Lima.
Exploring Inca ruins in the Sacred Valley
The Sacred Valley consist of a group of cities which run along the Urubamba river. These cities include Cusco, Pisac, Urubamba, Ollantaytambo, Aguas Calientes and Machu Picchu. Visiting the ruins of Machu Picchu is a must, but along this route, there are a number of lesser known ruins that can be explored in short day hikes.
Of the cities mentioned, most visitors will spend most of their time in Cusco. Cusco's ruins can be easily reached from the main square, Plaza de Armas. Walking past the famous 12-sided stone, up towards San Blas, and even higher still, you will reach a plateau, which is where the climbing finally comes to an end. Here, you will come across the archeological site of Q'enko and the ruins of the Temple of the Moon. Other sites to explore in Cusco include Qoricancha and Sacsayhuamán. To find out more, check out our gay guide to Cusco.
From Cusco, you can find a number of vans collecting passengers travelling throughout the Sacred Valley. For 10 soles, you can find yourself in either Pisac, Urubamba or Ollantaytambo. The Pisac ruins are expansive and comparable to those of Machu Picchu, but most tourists don't make it that far. Continue hiking the path which turns into more of a trail that hugs the mountainside. You will come to a short tunnel urging you to enter. Once outside of the tunnel, you'll get the first glimpse of a residential dwelling and agricultural area. The Sun Temple is located here, which is extremely sacred and important because it is perfectly aligned with the winter solstice sunrise.
The Ollantaytambo Fortress is an important ruin because the Incas used it as a last retreat from the Spanish attacks. The fortress was initially built for religious purposes, but subsequently for defence against the Spanish. At Ollantaytambo you can also find an incomplete Temple of the Sun, Balcon Pata, and Banos de Nusta. Each ruin has its own unique story important to the Inca civilisation and to today's Peruvian people.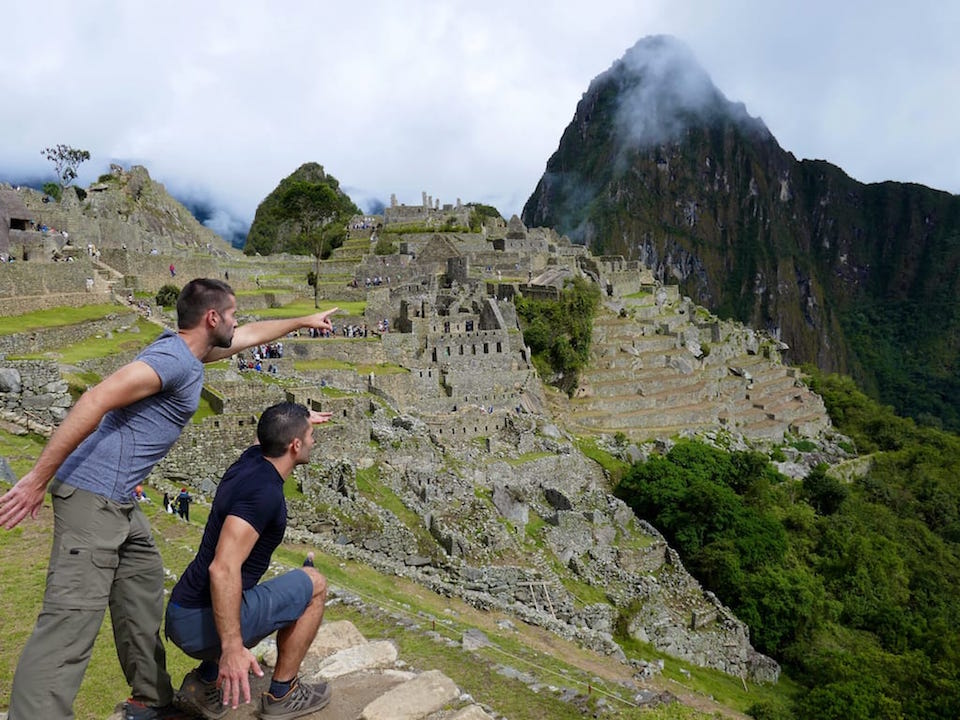 Hike the Inca Trail to Machu Picchu
We loved our Inca Trail to Machu Picchu. It's one of the most famous treks in the world and takes 4 days/3 nights. Throughout the 4 days, you pass a number of beautiful Inca ruins such as Llactapata, Runkurakay, Sayacmarca, Phuyupatamarca and Winay Wayna. On the 4th day, you will arrive at the Sun Gate just before Machu Picchu where you can see the spectacular sunrise over this ancient city.
The trek is quite strenuous, particularly due to the high altitude trail, the extreme weather of the Peruvian mountains and the large paved stones, which means there's quite a bit of climbing during the trek. It is said that the Inca Trail was historically designed to be difficult because it was built as a pilgrimage, so therefore a good test for the Incas to prove their faith to their gods.
The Peruvian government has limited the number of people on the trail per day to just 500, so you need to book well in advance to avoid disappointment. The Inca trail is closed for maintenance during the wettest month – February. We did the Inca trail in January and again in May. We advise against doing the Inca Trail during the rainy season, particularly in January when it can get quite dangerous and the views are limited by the grey clouds.
Participate in a volunteer programme
Volunteering abroad will very quickly make you realise that not everyone in the country is enjoying and exploring life the way you are. A volunteer programme will give you the opportunity to get a better understanding of what life is like for a local.
Volunteer programmes in Peru involve working in communities, which need your help and support. Examples of volunteering projects offered by Maximo Nivel include:
working on a construction project which helps to build classrooms, homes, or healthcare facilities
teaching English to adults who need the skills for academic or professional opportunities, but do not have the resources to attend a private English institute
supporting reforestation efforts in the Amazon jungle
getting involved with a medical campaign which offers basic healthcare services to residents living in the rural outskirts of Cusco
In addition to making a direct impact on the local communities, you will have the option of living with a Peruvian family. This experience will provide you with a deeper insight into the family life of Peruvian culture, from learning about traditional foods, getting inside information on the best things to do and coolest places to explore, and most importantly, developing a bond with the people who generously share so much of themselves and their culture.
Live among an indigenous tribe
Another great option for immersing yourself in Peruvian culture is to live among an indigenous tribe. The Andean Immersion experience places you with a family in the Andes mountains where you will immerse yourself in their lifestyle for at least 1 week. All of the families speak the indigenous language, Quechua, allowing you an opportunity to learn the language of the Inca first-hand.
It is common for these dwellings to go without electricity, and hot water is a luxury. Here you say goodbye to many first world luxuries you're used to back home. Instead, you will receive duties and chores from the family, which structures your day. Chores are largely gender based, so women will help with the cooking, cleaning and the children, men will be given construction or renovation projects, or help tend to the livestock.
Many of the Andean women are expert weavers who can teach you the traditional ways of the Inca craft. The village spends lots of time together during meal times, or bonding around a campfire. It's the perfect insight into traditional folklore, and the story of Cusco as seen from descendants of of one of the biggest, most important empires in history.
Visit the Islas Flotantes de los Uros
These floating, indigenous islands are located on one of the most magnificent lakes in South America, Lake Titicaca. The Uros tribe began their lives on the floating islands in an effort to isolate themselves from the reign of violence caused by the Spanish. Today, the islands are a top tourist attraction which has exploded in commercial tourism as a way for locals to earn a living. Still, the biggest island has a school and a post office ensuring that the people are authentically living their day-to-day lives.
As over commercialised as it might be, the islands are still a wonder and a great way to learn about the fishing villages, which have only recently added tourism to their economy. It should be noted that more authentic islands do still exist, though they are located further away and most tours do not include these islands on the itineraries. You can read more in our article about Lake Titicaca, which explores some of the less-touristy islands, where the inhabitants continue to live a more traditional lifestyle.
Don't pass on the Chifa
Less commonly discussed is the history of Chinese immigrants to Peru. With an unstable government, many Chinese labourers looked to Peru for contracted work. In 1876, Peru had registered about 50,000 Chinese indentured servants, aged 9 to 40. At that time, 12,000 workers were living in Lima, accounting for 10% of the population. Today, Peru is home to the largest Chinese population in South America, which strongly influences the culture and cuisine, one being Chifa.
Chifa is a fusion of Peruvian and Chinese cuisine. In Lima, many of the chifa restaurants are located in its "barrio chino", or Chinatown. "Arroz chaufa" is very closely associated with any of the various Chinese fried rice options, and the commonly eaten "Lomo Saltado" includes strips of beef marinated in vinegar, soy sauce, and spices, accompanied by white rice, a Chinese staple, and added to traditional Andean potatoes.
You can read in our 10 famous foods from Peru.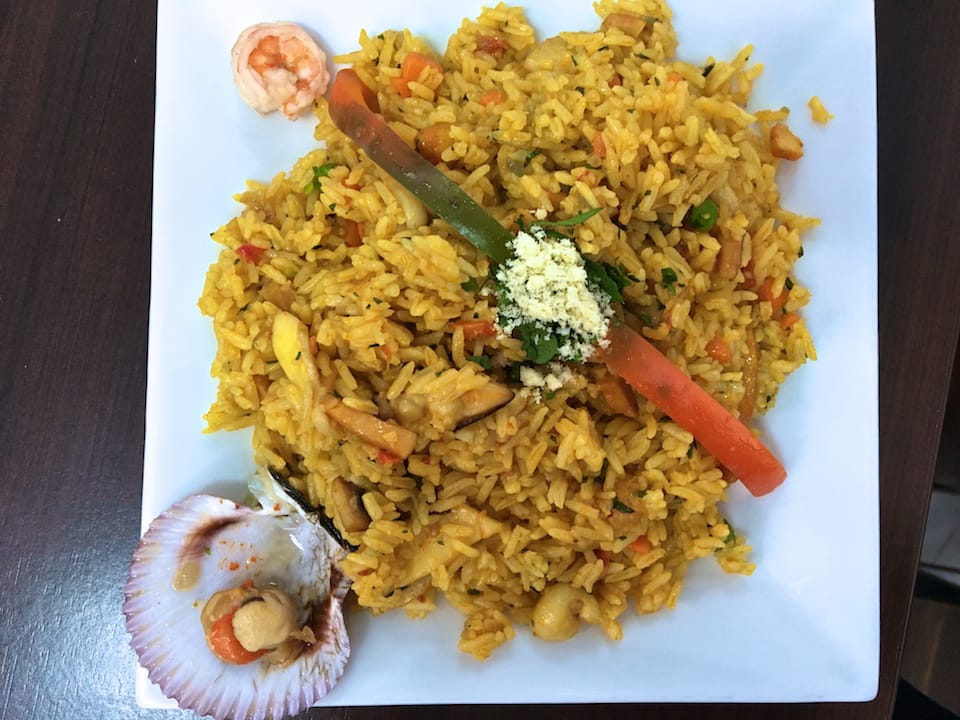 OUR FAVOURITE TRAVEL TIPS
⭐️ TRAVEL INSURANCE — We recommend you always take out travel insurance before your next vacation. What happens if you suffer from illness, injury, theft or a cancellation? With travel insurance, you can have peace of mind and not worry. We love World Nomads travel insurance and have been using it for years. Their comprehensive coverage is second to none and their online claims process is very user friendly.
⭐️ SAFETY & SECURITY — All travelers can sometimes encounter danger when traveling. CloseCircle is your "virtual body guard" mobile app which provides security alerts and support wherever you are in the world. They have a 24/7 emergency response team monitoring their users who will contact you immediately if the SOS swipe button is activated. Support can include anything from practical advice, to free evacuation from areas with extreme weather or security risks. You can read more about CloseCircle in our article about how to stay safe whilst traveling.
⭐️ ONLINE ANONYMITY — A VPN (Virtual Private Network) is a must in many countries: it allows you to surf anonymously and maintain your privacy whilst traveling. You'll particularly need it in countries where dating apps are blocked by the government. We recommend ExpressVPN, a reliable and cost effective service which we used and loved during our travels.
⭐️ HOTELS or APARTMENTS — When we plan a trip, we always look for the best hotel deals. We love Booking.com because not only do they have a comprehensive listing of accommodation options, they also offer the best prices. Added bonus: they provide 24/7 support and free cancellation for most listings.
⭐️ SIGHTSEEING and ADVENTURES — When we travel somewhere, we like to seek out the best experiences, whether it is cooking with locals in Bangkok, hiking on a glacier in Patagonia, or going on a wildlife safari in Sri Lanka. Our favorite place to look is GetYourGuide because they have over 30,000 highly rated activities, a user-friendly booking process with free cancellation and a 24 hour customer support.
This article contains affiliate links. If you click on them, we may receive compensation which keeps our website alive and helps us bring you to more destinations.
This is a guest post collaboration by Maximo Nivel, an education travel company who offer volunteer placements, internships, Spanish language courses, and a TEFL certification course in Peru, Costa Rica and Guatemala.