Train ride from Kandy to Nuwara Eliya, stunning scenery of Sri Lanka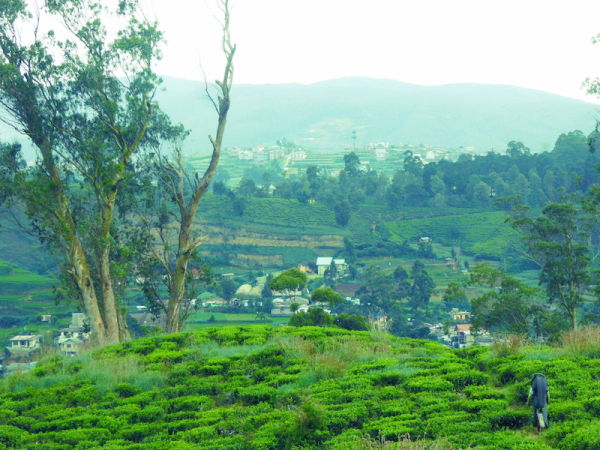 Train journeys in Sri Lanka were some of our favourite from our travels in Asia.
We stayed in Kandy (500m) for a few days then took the train up through the Sri Lankan hill country to Nuwara Eliya (1,868m):
THE CITY OF KANDY
Kandy is the geographical, cultural and religious heart of Sri Lanka and the last stronghold of the Sinhalese kings, falling to the British in 1815. The town itself is famous for the Temple of the Tooth (housing the alleged tooth relic of Buddha) – a must for anyone Buddhist or into Buddhism.
Kandy has a pretty lake with some cheeky monkeys who stole our mangos as we stopped to admire the surroundings.
BEST PLACES TO STAY IN KANDY
Kandy is a beautiful town offering a variety of places to stay. Whether, you are looking for some romantic time, luxury, or good value for money, you will find it in Kandy. We stayed in different hotels and guest houses while in Kandy, below are the places that stood out for us:
THE SECRET KANDY   Book online
125 years old building renovated in a beautiful 5 rooms boutique hotel. If you are looking for a romantic experience, this is the place to be.
Great location, close to all main sites.
Prices start from $158 / £109 a night with breakfast.
ELEPHANT STABLES   Book online
Stylish accommodation, great staff, lovely pool, a true oasis just outside of Kandy.
Prices start from $223 / £154 for a double room with breakfast.
HANTANA RANGE VIEW   Book online
The couple (Pathi and his wife) running this little home stay are so kind and caring.
The food is excellent.
Prices start from $29 / £20 for a double bed with breakfast.
HOW TO GET TRAIN TICKETS IN KANDY?
We were advised to take trains early in the day in Sri Lanka before the midday mist sets in.
It is better not to buy tickets in advance because trains are frequently cancelled if the weather is too extreme (weather in Sri Lanka is extremely unpredictable). So you only know the night before if the train is still scheduled.
We turned up early on the day of departure to buy tickets and had at least 2 different groups of people offering us their pre-ordered tickets in 2nd/3rd class for free!
Obviously we were happy to accept a free ride in 2nd class (the difference with 1st is the presence of air conditioning).  It turned out the 1st class tickets (which they wanted) are only available to buy on the day of departure and not in advance.
So people buy (non refundable) 2nd class seats (around £4 / $6) in advance to at least guarantee their seat on that train and then buy 1st class (around £10 / $15) on the day of departure when they are made available.
if you managed to get free tickets like us, let us know, we would be curious to find out!
THE TRAIN RIDE FROM KANDY TO NUWARA ELIYA
Kandy was a base for us to start our scenic train journey through the Sri Lankan tea plantations to Nuwara Eliya (1,868m).
On this train journey we passed a lot of tea plantations and saw the many Tamil workers in the fields close up:
WHERE TO STAY IN NUWARA ELIYA?
Nuware Eliya is a tranquil little town but has a great variety of places to stay. The ones that stood out the most for us were:
HERITANCE TEA FACTORY   Book online
Old colonial tea factory with amazing views over the plantation.
Very friendly and professional staff.
Prices start from $285 / £197 for a room with breakfast.
SINCERE WILDERNESS HOMESTAY   Book online
A homestay full of character, on the side of Sri Lanka's highest mountain, overlooking Nuwara Eliya.
The host family will care for you with love. Food is amazing!
Prices start from $83 / £57 with breakfast included.
HEIDI'S HOME   Book online
A three bedrooms guesthouse with very friendly owners and their little daughter Heidi.
Great budget option in Nuwara Eliya.
Prices start from $34 / £23 with breakfast included.
Watch our travel video diary of our adventures through Sri Lanka as we ate our way through this tropical island, took some beautiful train journeys and enjoyed excellent safaris spotting leopards at Udawalawe and blue whales at Mirissa.